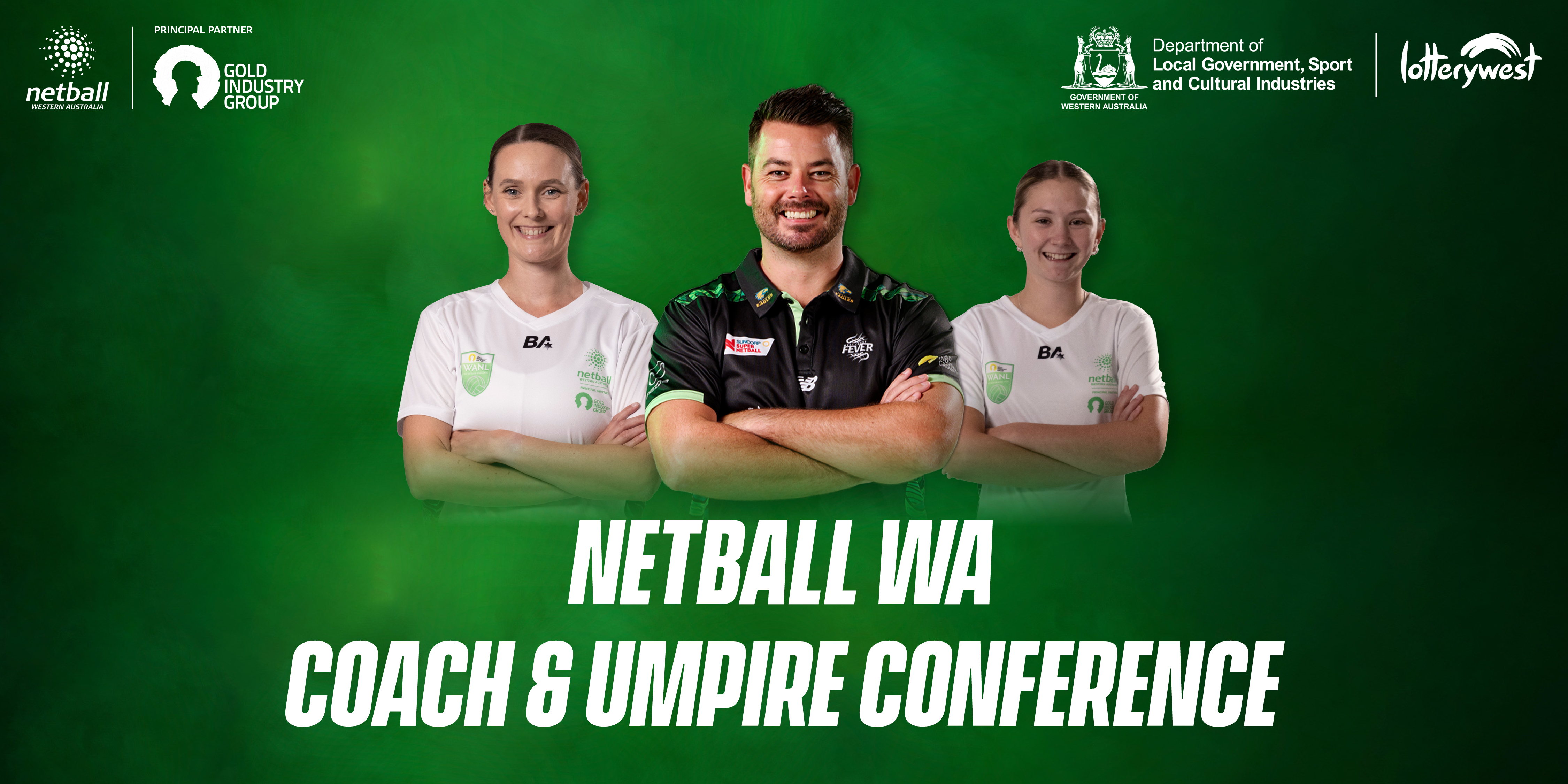 A unique opportunity to connect with expert umpires and coaches, including West Coast Fever's Head Coach, Dan Ryan.
Join us for a series of sessions where you'll gain valuable knowledge and insights to elevate your coaching and officiating skills, followed by a sundowner for networking with fellow attendees.
Get your tickets now!
Event Details
Interactive coaching and umpiring sessions
Keynote speakers, including West Coast Fever Head Coach, Dan Ryan and Netball Australia Head Coach, Performance Umpiring Sharon Kelly OAM
Catered afternoon tea
Sundowner
Q&A
Conference Topics
Game Sense Competitiveness
Dan Ryan – Coach, West Coast Fever
Dan Ryan will demonstrate game sense competitiveness, drills with purpose covering West Coast Fever staples and adaptions.
Making the Basics Better
Sara Francis-Bayman – Assistant Coach, West Coast Fever
The newly signed Sara Francis-Bayman will demonstrate how to bring to life game day scenarios and situations in a training environment.
On the Couch
Sue Gaudion – General Manager West Coast Fever, Performance & Pathway
A conversation with Dan Ryan and with key topics including: "How you Make it Happen", "Networking" and "Creating your Coaching Philosophy".
The Warm Up
Liam Warwick – Head of Performance, West Coast Fever
Liam will be taking coaches and officials through how to keep your warm ups fresh and interesting in the training environment.
Ball Blast
Guy Keane – Talent Coach West Coast Fever, Reserves and 17/U State Team Head Coach
Guy will take coaches through ball blast with purpose. taking ball blast into a match play environment and including growing and developing drills into a realistic situation.
Fundamental Techniques
Sharon Kelly OAM – Netball Australia Head Coach Performance Umpiring, World Netball ITP member
Sharon Kelly will discuss the fundamental skills and techniques for pathway umpires on their road to success. She will also provide a sneak peek into the 2024 Rules of Netball updates.
Presenter Biographies
Dan Ryan
Dan Ryan is West Coast Fever's current Head Coach and will enter is third season in charge next season. Ryan secured the Club's first premiership in 25 years in 2022 and became the first male head coach in Australian netball history to win a national league title.
He began his coaching journey as an Assistant Coach with the Adelaide Thunderbirds from 2012 to 2015, helping the Thunderbirds secure the 2013 premiership.
His Head Coaching career started at the Manchester Thunder in 2016 before he returned to coach the Adelaide Thunderbirds between 2017-2018. After he departed Adelaide, he was a premiership Assistant Coach with the Manchester Thunder in 2019, Head Coach of Northern Ireland at the 2019 World Cup and then Head Coach of the Leeds Rhinos in 2021.
As a player, Ryan represented Australia between 2003 and 2012 and was the 70th player to represent Australia. At a state level, he won seven national titles during his 13-year career with the Victorian Men's Team.
Sara Francis-Bayman
Francis-Bayman was unveiled as West Coast Fever's Assistant Coach in September, having previously worked for Netball WA since April 2023 as an Assistant Talent Coach.
She was Head Coach of the Loughborough Lightning in the Netball Super League between 2019 and 2021, a stint which saw the Lightning secure first ever premiership in 2021 and a semi-final finish in 2019. She was most recently Scotland's Assistant Coach at the 2023 Netball World Cup, and for Commonwealth Games 2022.
As a player, she represented England on 84 occasions, playing in two Commonwealth Games and two World Cups.
Sue Gaudion
Gaudion is a High Performance accredited Netball Coach with a wealth of experience at State, National and International level.
She was appointed Head Coach of the Singapore National Team that competed at the 1999 World Netball Championships in New Zealand.
After returning to Australia, she coached the West Australian Under 21's State Team in 2005 to their first National Championship victory in 33 years. This success elevated Gaudion to the State number one coaching position as Head Coach of the Perth Orioles in the National Netball League.
In 2008, she led the West Coast Fever in the inaugural season of the Trans-Tasman League, the ANZ Championship and in 2009 was appointed as the Assistant Coach of the Australian Institute of Sport netball program. Twelve months later she took over the program as Head Coach and was also appointed Assistant Coach of the Australian 21/U team.
Gaudion has held the role of Skills Coach for the past six years with West Coast Fever and is also the Club's General Manager.
Liam Warwick
Warwick is currently the Head of Performance for the West Coast Fever and joined the Club as the Strength and Conditioning Coach in 2015 and has held this role since. This role sees his plan, oversee and implement all strength, speed, conditioning and sports science for the West Coast Fever and developing programs.
In addition to his role at the West Coast Fever, Warwick is also a director and coach of a private athletic performance company called Athlete Alliance. This role has seen him work with a large range of professional and developing athletes from sports such as golf, cricket, basketball, soccer, Australian rules and more.
Guy Keane
Keane is an Elite level accredited coach and moved to WA from Victoria and to take up the role of West Coast Fever Talent Coach (WCF Academy Head Coach/ WAIS Head Netball Coach) in November 2022. He has a wealth of experience as a Victorian and Australian men's player and a decade of experience coaching throughout the elite netball pathway in Victoria.
In 2023, Keane coached both the West Coast Fever Reserves the WA State 17/U sides, helping the 17s secure a Bronze Medal.
He was the assistant coach of the Collingwood Magpies at the 2022 Australian Netball Championships and in 2021 was the head coach of the Hawks in the Victorian Netball League.
Guy also plied is trade in the Victorian State Team programs and is passionate about developing and supporting young athletes along the journey.
Sharon Kelly OAM
After a decorated career as a high-performance umpire which included over 100 Test Matches and countless national finals, Sharon Kelly OAM was appointed as Netball She is also a Member of the International Umpire Testing Panel appointed to Test Series, Commonwealth Games and World Cup.
Accolades
13 x Netball Australia Umpire of the Year
International Umpire Award recipient 1996
Five x Commonwealth Games Umpire (1998, 2002, 2006, 2010, 2014)
Four x World Championship Umpire 2003, 2007, 2011, 2015
More in Coaching Courses
Intermediate Coach Course
Gold Netball Centre
Sun 17 Mar, 8.00am , Gold Netball Centre
Intermediate Coach Course
Gold Netball Centre
Sun 05 May, 8.00am , Gold Netball Centre
Intermediate Coach Course
Sun 28 Jul, 8.00am , Gold Netball Centre